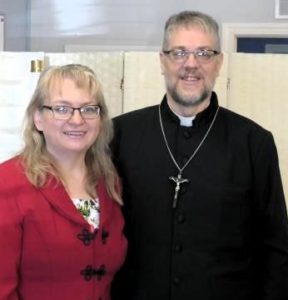 Pastor Jerald P. Dulas, and Tanya
Welcome to the website of Saints Peter and Paul Evangelical Lutheran Church, UAC (Unaltered Augsburg Confession). I am Pastor Jerald Dulas and have served this parish since being installed, January 15, 2017, by the Rt. Rev. James D. Heiser, the bishop of the Evangelical Lutheran Diocese of North America (ELDoNA). We are an independent Lutheran parish affiliated with the ELDoNA. (Please check out their website at www.eldona.org)
On July 6, 2002 I was united in holy matrimony to Tanya Dulas née Palm of Blue Earth, MN, who was born September 30, 1969 in Springfield, MN and baptized at Zion Lutheran Church in Springfield, MN on October 12, 1969. She was confirmed at St. Paul Lutheran Church, in Blue Earth, MN on March 31, 1985. We have not been blessed with any children. I was born on September 21, 1970 in Wells, MN and baptized on October 4, 1970, at Mt. Carmel Catholic Church, Wells, MN. I was confirmed in the Evangelical Lutheran faith on May 26, 1985, at St. John Lutheran Church in Winsted, MN. I graduated from the Lutheran High School in Mayer, MN on June 5, 1989. I graduated with a Bachelor of Arts degree in Sociology with a Minor in Business Management in August of 1994 from Concordia University, River Forest, IL. I earned my Master of Divinity at Concordia Theological Seminary in Fort Wayne, IN with a specialization in Pastoral Administration (with a special emphasis on the study of the Liturgy) and New Testament Exegesis in May of 1998. During my time at the seminary I did a summer internship at St. Thomas Lutheran Church, Baltimore, MD in the inner city and did my vicarage at Trinity Lutheran and Cross of Christ Lutheran Churches in Memphis, TN, both of which were in the inner city. I was ordained onto the LCMS clergy roster on June 21, 1998 at Zion Lutheran Church, Mayer, MN.
In the LCMS, I served parishes in Louisiana and Minnesota from July 1998 until September 2004. I colloquized into the ELDoNA in June of 2009 at their annual synod and colloquium. I was called shortly after to serve as Deacon (the term our diocese uses in place of Associate/Assistant Pastor) of Good Shepherd Ev. Lutheran Church, Tony, WI. After accepting the call to serve as Good Shepherd's deacon with the specific assigned task of being missionary-at-large to MN and WI, I was installed in September of 2009. After Tanya and I settled in Mayer, MN, a mission parish was established at that location (St. Matthew Ev. Lutheran Mission). We later moved to Hutchinson, MN and relocated the Mayer mission to Hutchinson. A mission in Mankato, MN was also established in September 2012 (under the patronage of St. Matthew Ev. Lutheran Mission), the membership of which was made up of mostly college students and recent graduates.
My name appears on the publication of two works: First, The One True God, The Two Kingdoms, and the Three Estates written by Bishop James D. Heiser, to which I contributed the prayers in the back of the book. Second, The Psalter and Canticles of the New King James Version, of which I set the entire psalter and the New and Old Testament canticles to the historic Gregorian Psalm tones. The work also supplies the daily offices of Matins and Vespers with Invitatories, Antiphons, Versicles and Responsories for different times and seasons within the Church Year, all of which are set to music.
Since the bishop, pastors and deacons of ELDoNA are for the most part bi-vocational Tanya and I have in the most recent past, before moving to Greenville, SC from MN, been farmers, raising hogs, turkeys, and chickens (both for meat and eggs). We also established an orchard with apple, pear, cherry and apricot trees. We also kept bees, and did gardening, selling off the extra at market. Tanya also worked for McDonald's Corporation for 23 years, before switching gears. She now works for 3M of Greenville, SC. She is quite happy there.
We welcome you to join us at Saints Peter and Paul Ev. Lutheran Church, UAC. Please consider joining us for worship sometime. You are welcome to contact me at (864) 412-6330. I would be glad to sit down with you and talk about the Word of God and our parish or our missions in Augusta, GA, Myrtle Beach, SC, and Knoxville, TN.
Papers Pastor Dulas has delivered to the Diocese
Liturgy vs Ceremony (2010)
A Short Primer on the History and Practice of Gregorian Chant (2013)
The Lutheran Church Has Always Chanted (2017)
The Epistle and Gospel Collects (2019)
The History and Use of Invitatories, Responsories, Versicles and Antiphons (2021)
I Desire to Make No Law (2022)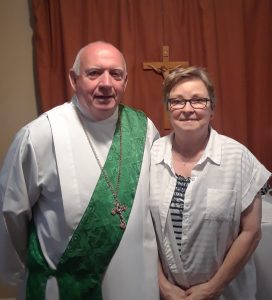 Deacon Floyd P. Smithey, Jr., and Sherrill
Greetings in Jesus' Name.
I am Deacon Floyd Smithey. I was installed as Deacon (assistant/associate pastor) on July 26, 2020 by the Rt. Rev. James D. Heiser, the Bishop of the Evangelical Lutheran Diocese of North America (ELDoNA). I am a Deacon at Saints Peter and Paul Lutheran Church UAC in Simpsonville, SC, an independent parish affiliated with ELDoNA. I serve St. James the Elder Ev. Lutheran Mission, UAC in Knoxville, TN which is a mission of Saints Peter and Paul Ev. Lutheran Church, Simpsonville, SC.
On November 19, 1971, I was married to Sherrill Smithey née Carter of Memphis, who was born on August 29, 1950. She was baptized at Trinity Lutheran Church in Memphis, TN and confirmed at that same church. She worked as a bookkeeper for several corporations and retired from public work after I was installed as a pastor. We have been blessed with two sons, Samuel (married to Sarah) and Jesse (married to Laura). We have also been blessed with four grandchildren—Cate, Levi, Luke, and Cameron. I was born in Humboldt, TN on November 17, 1948. I was baptized in the Name of the Triune God on May 27, 1950 at First Christian Church in Humboldt, TN. I was confirmed as an adult by Pastor Paul Martens at Trinity Lutheran Church in Memphis, TN. I graduated from Humboldt High School in Humboldt, TN in May, 1966. I attended various colleges and universities while working full time. I began attending Concordia Theological Seminary in 2002 and graduated with a Master of Divinity degree in May, 2006. I was ordained at Concordia Lutheran Church in Jackson, TN in July, 2006 and installed at my first call in Hazel Green, AL later that month.
In the LCMS, I have served congregations in McMinnville, TN (vicar); Hazel Green, AL; Columbus, MS; and Knoxville, TN. Sherrill and I also joined Saints Peter and Paul Ev. Lutheran Church in 2020 after studying and being examined by Pastor Jerald Dulas. I colloquized into the ELDoNA in 2020. Through the years—before attending seminary in 2002—I worked in sales and management for several major trucking companies before starting a small business which evolved into two small businesses. After retiring from the ministry (4 times now) I have continued to work some—mostly part time—as a Lowe's employee, as a golf course cart attendant, and now as a greeter/scanner at a local hospital during the Coronavirus epidemic. My wife Sherrill stays busy attending to our home and spending all the time she can with our four grandchildren. I enjoy playing golf occasionally, working in our garden, and working in our yard. I do enjoy watching golf and college sports, especially the UT Vols on TV.
In Service to Jesus Christ, the Son of the only True and Living God,
Deacon Floyd Smithey